The 7 Best Ways to Make Coffee at Home
Love coffee? Like making coffee at home? You may have your own preferred method for homemade coffee, but which way yields best flavor is constantly up for debate. Here, we are going to introduce you the 7 best ways to make coffee at home and guide you how to use these coffee brewers.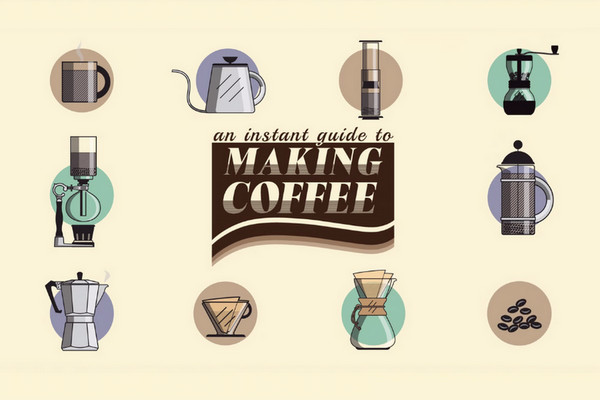 1. AeroPress
The AeroPress uses pressure to brew coffee. Invented by the maker of the Aerobie Frisbee, the AeroPress has been a cult gadget for some time. It is extremely convenient to brew coffee – especially for those on the go. Its paper filter helps brew coffee with less oil and sediment. (Learn: AeroPress vs. French Press: what's the difference)
Pros: 
1. Extremely portable. Great for camping, Airbnb-ing  for enjoying on the go.
2. Easy and oddly satisfying cleanup.
3. Takes only two minutes to brew a cup of coffee.
4. It is able to make espresso.
Cons:
1. Just make a single cup of coffee at a time.
2. You need specific filters for the Aeropress.
YouTube Tutorial: How to Brew Coffee in an AeroPress
2. French Press
French Press is one of the best yet easiest ways to brew a cup of perfect coffee. It is a full immersion brewing device with a metal mesh filter. To make a French Press, you need coarse ground coffee. Pour the coffee ground in, add water at appropriate temperature, steep for 4-5 munities, and push the plunger down. (Learn how to make French Press coffee) There are glass French Press and stainless steel French Press in the market. 
Pros:
1. A extremely easy way to make a cup of coffee, you can get a stronger and more flavorful cup of coffee. 
2.  Brews up to eight cups at a time.
3. Allows precise control over steeping time.
4. Available to make cold brew coffee or loose leaf tea. 
Cons: 
 1. Hard to clean for grounds sludge seep into cup. 
2. Grind size matters, water temp matters and steeping time matters your coffee. You should take more care of your brewing process. (Learn the right grind size for different  brewing size)
YouTube Tutorial: How to Make a French Press
3. Pour Over
Pour over coffee, also known as hand drip coffee, is an old-fashioned brewing method. Hario V60 is the most popular pour over brewer. It is a cone-shaped dripper with spiral ridges along the inner wall and a single, large opening at the bottom. The V60 filters are thinner than any other paper pour over filters. Expect the Hario V60, which is made of ceramic, there is also stainless steel dripper. It is more convenient. 
Pros: 
1. Produces a really magnificent cup of coffee.
2. Available to make difference varieties of coffee.
3. The bonded filter catches sediment and oils, preventing bitterness.
Cons: 
1. Brew just one at a time.
2. The V60 is inexpensive, but you need to spend some serious coin on all of its accessories.
YouTube Tutorial: How to Make Pour Over Coffee
4. Chemex Brewer
Chemex is a classic and elegant brewing device that was created in the 1940s. It is a pour-over method, which involves pouring hot water over grounds and a paper filter. Unlike normal paper filters, the Chemex paper filters are 20-30% thicker, which brews smoother and purer flavor coffee with fewer oils.  
Pros:
1. Creates a flavorful, non-bitter, non-acidic cup of coffee due to strong filtration method.
2. Beautiful design makes it a home decor at your home.
Cons:
1. It is breakable.
2. It is expensive. 
YouTube Tutorial: How to Brew Coffee with A Chemex Brewer
5. Keurig K-Cup Coffee Maker
Keurig is a dream come true, for most coffee drinkers. In only a few second you can enjoy a hot cup of coffee. They are designed to quickly brew not only coffee but tea or other hot beverages. The grounds are pre-measured into the K-Cup, which are small pods. The machine delivers your selected brew within 20-60 seconds.
Pros:
1. Instant but not produces instant flavor.
2. The easiest way to make coffee at home.
3.Brew not only coffee, but tea, ice coffee, hot chocolate, lemonade and more.
Cons:
1. It is expensive, the machine per se and the k-cups.
2. It is only single serve. 
YouTube Tutorial: How to Make Coffee with Keurig K-cup Coffee Maker
6. Siphon
Brewing coffee with a vacuum pot may be the most visually interesting of all brewing methods. It is your second-to-none choice if you want to have all your friends around agape in amazement. It brings you a cup of smooth coffee and visual treat, but it is hard to clean.
Pros:
1. Certainly the most dramatic of all brewing methods.
2. Full immersion of grounds in water extracts a full spectrum of flavors from coffee.
Cons: 
1. Hard to clean. 
2. It's delicate and not easy to store.
3. Stick around 10 minutes for brewing coffee.
YouTube Tutorial: How to Use a Vacuum Pot
7. Moka Pot
Moka Pot, also known as stovetop espresso maker, has long been the domain of people who prefer an intensive and strong coffee. It was patented for the first time in Italy by Bialetti Company. Most of the Bialetti Moka Pots are made of aluminum, but you can find stainless steel Moka Pot from Ecooe. 
Pros:
1. Produce a delicious, espresso-like cup of coffee.
2. Acquire high degree of customization. 
Cons:
1.  It is fussy to master, thus results in a over-extracted and bitter cup of coffee.
2. It is somehow not safety. 
YouTube Tutorial: How to Brew Coffee with a Moka Pot
The above 7 methods are the most popular and the best ways to make coffee at home. Choose one method you like, and brew coffee at home. 
Related: 3 Best Ways to Make Cold Brew Coffee at Home