3 Delicious and Easy Christmas Desserts for a Crowd Recipes
Did you start to prepare Christmas gifts and Christmas ham? You won't have a perfect holiday if you forget all about dessert. Let's get ready to serve up delicious desserts with a minimum of fuss. Learn and try any one of these festive sweet treats to surprise your guests at that day.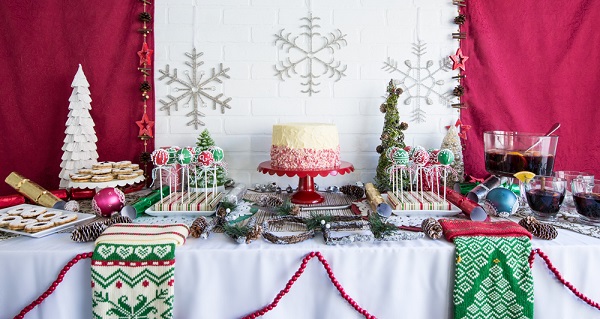 Pavlova with Fresh Fruit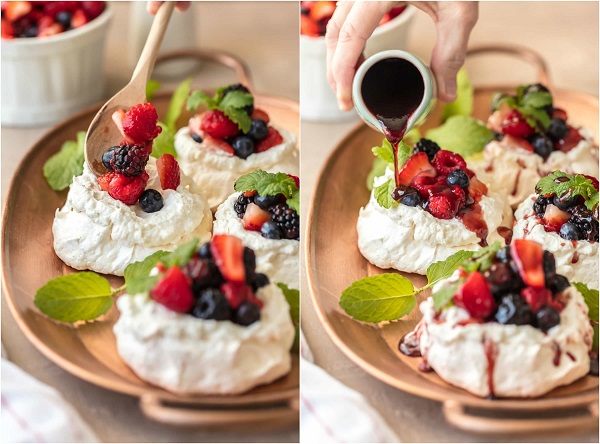 PREP: 30 MINS   COOK: 1 HOUR   SERVES: 6-8
Preheat the oven to 150℃ and line a baking tray with baking paper.
Put 4 egg whites in a small bowl and leave it stay at room temperature for 20 minutes. Add cream of tartar and salt into it. Whisk it with a hand mixer or a blender of medium speed until it forms soft peaks. Then whisk in 250 caster sugar, 1 tablespoon per time, on high until stiff peaks form.
Place several dollops in appropriate size on the baking tray, forming a shallow well in the center with the back of a spoon. Bake at 225℃ for 1 hour or more until set and lightly browned.
Turn off the oven and leave the Pavlova completely cool inside the oven.
Before serving, whisk cream and almond extract in a small bowl until stiff peaks form. Spoon it into meringue shell. Top the fruits you like and finish. 4 Easy Apple Recipes For Kids and Family
Gingerbread with Lemon Sauce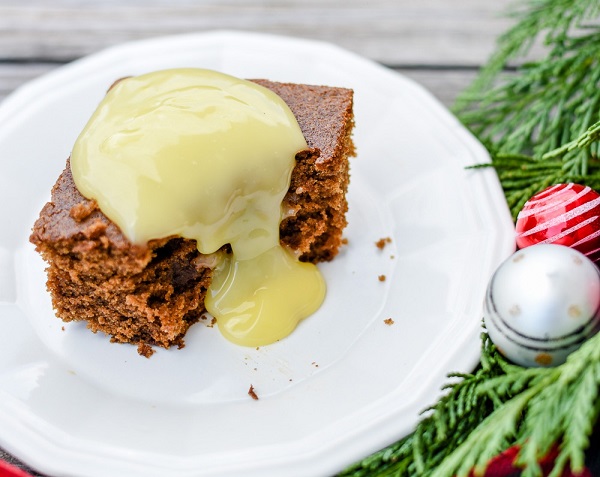 PREP: 15 MINS   COOK: 35 MINS   SERVES: 20
Preheat oven to 350℉. Grease the bottom of the square baking tray.
Pour 2 cups sifted flour, ½ cup sugar, 1 teaspoon baking soda, ½ teaspoon salt, 1 teaspoon ground cinnamon, 1 ½ teaspoon ground ginger, ¼ teaspoon ground cloves and ½ cup wheat germ into a large bowl or the bowl of electric mixer.
Whisk 2 eggs in a medium size bowl until frothy. Stir in 1 cup buttermilk, ¾ cup molasses and ⅓ cup vegetable oil. Mix well all of them.
Pour the liquid ingredients into the dry ingredients and them mix well.
Place into the prepared pan and bake in oven for 35 minutes until the top can spring back when pressed. Put the pan on wire rack for cooling down.
To make lemon sauce, put ½ cup sugar, 1 tablespoon cornstarch and ⅛ teaspoon salt in a small bowl. Stir in 1 cup boiling water and bring to boil again, stirring constantly. Lower heat and simmer, stirring, until sauce is thickened and clear. Add 2 tablespoon butter, 1 teaspoon grated fresh lemon rind and 3 tablespoon lemon juice.
Cut warm gingerbread into suitable sized squares and place them on beautiful plates. Pour the lemon sauce over them. How to make coffee in cone at home
No-Bake Chocolate-Pecan Tartlets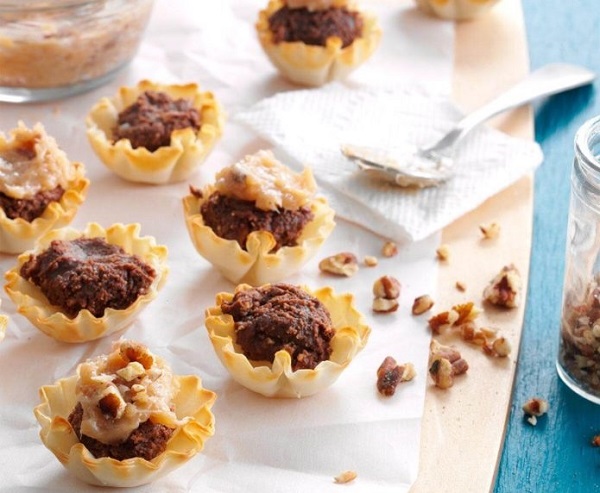 PREP: 30 MINS   COOK: 5 MINS   SERVES: 45 Tartlets
Crushed 20 vanilla waffers and place them in a bowl.
Drizzle with 1 tablespoon spiced rum or 1 tablespoon water plus ½ teaspoon rum extract. Mix it well. Let stand 15 minutes. Then, stir in 3 tablespoon finely chopped pecans.
Microwave ½ cup sweetened condensed milk in a microwave-safe bowl, covered, on high for 15 seconds.
Stir in ⅔ cup semisweet chocolate chips and ½ teaspoon vanilla extract. Microwave 15-30 seconds longer or until blended, stirring twice. Stir into wafer mixture.
Place 5.7 ounces in total frozen miniature phyllo tart shells on serving plate. Fill each with 1 teaspoon wafer mixture and 1 teaspoon coconut-pecan frosting. Sprinkle with additional chopped pecans. Refrigerate leftovers.
Dazzle your holiday table with these easy-to-make desserts. Have a wonderful holiday with your family and friends. Wish you a merry Christmas!
Read More:
How to Make A Gallon of Sweet Tea