Why Choose Double Wall Glass Cups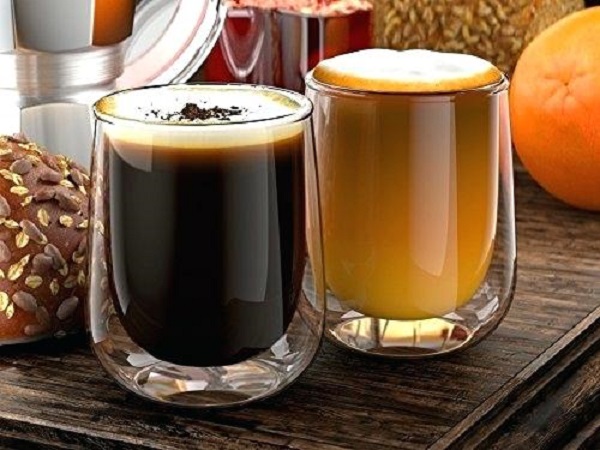 Cup, as a part of daily life, widely spreads in the market. For different design purpose, some are porcelain, like coffee and tea cups; some are plastic, such as tooth cup; in cold winter days, we can also see stainless vacuum cup anywhere. Useful as they are, for the consideration of elegance and aesthetics, some people especially prefer the sparkling and crystal-clear glass cup for visual enjoyment. And compared with normal cups, double wall glass cups undoubtedly bring more convenience.
 Let's firstly learn something about glass. The normal traditional glass is usually referred to as soda lime glass and it is made of sodium carbonate, quartz, and calcium carbonate. Yet since the appearance of Borosilicate glasses in the late 19th century, double wall glass was produced. With another wall added in, double wall glass is heat resistant and durable. It is also more light-weighted than traditional glass cups. Due to its durable feature, they are widely used in chemical laboratory.
This light-weighted and stable feature of double wall glass can benefit us a lot. For example, when pour boiled water into traditional glass cup, it is always tortuous to hold it on hand and the heat retention effect is not as good as we want. Double glass performs better with its double layers. And you are free from the pain caused by heat.
Another reason for we to choose double wall glass lies in safety consideration. Traditional glasses are at risk in suffering from extreme heat and coldness. Once that happens they are likely to crack with big noise, bringing damage to surrounded people. Instead, double wall glasses are out of these unsafe issues. That is also the main reason for its wide usage in coffee shops, restaurants and bars.
Ecooe 100ml Double Wall Cups 4 Set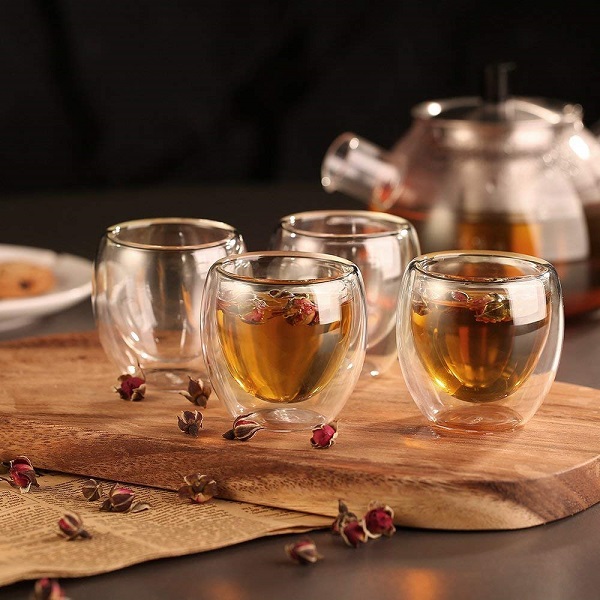 This set of cups goes with four cups and is a good choice for coffee and tea drinking. You can invite your friends to drink together or just put it in the office for personal meeting. The smooth curve body brings people an impression of blinking and exquisite. Put some colored liquid such coffee into it, the liquid will stay in the inner glass, composing a picture of colored liquid hanging in the air with crystal glass enveloped outside.
Ecooe 350ml Borosilicate Glass Cup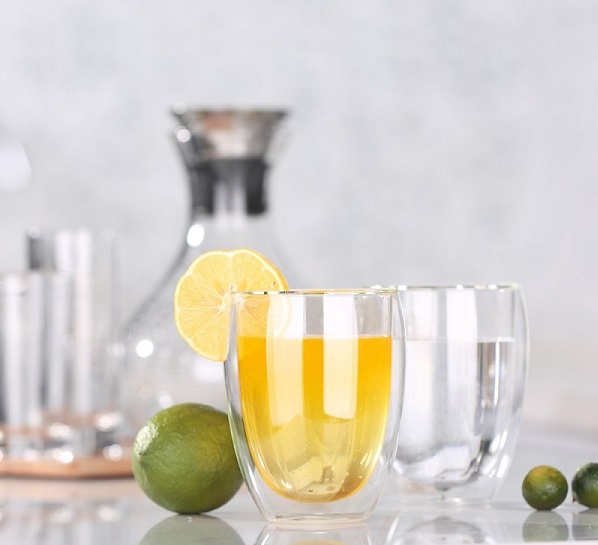 Ecooe 350ml is also a double wall cup with curved body. Like many double glass, it keeps drinks hot or cold for longer. Besides, it is designed with one-molded blown process, which makes the cup light and stable to hold, also, explosive-proof when suffering instant temperature change. With its volume at 350ml, this crystal clear cup is a good choice as milky cup and ice cream cup.
To be concluded, double wall glass cup is more competitive in temperature maintaining and safety ensuring. With the design of double glass, it presents a scene of floating illusion, bringing people much eyesight entertainment. A good choice for beverage!