The 6 Best Pepper Mills in 2017
Pepper is important to season some foods. Whether you are a gourmet chef or just a home cook, you can't get very far in any recipe without needing the basics: salt and pepper.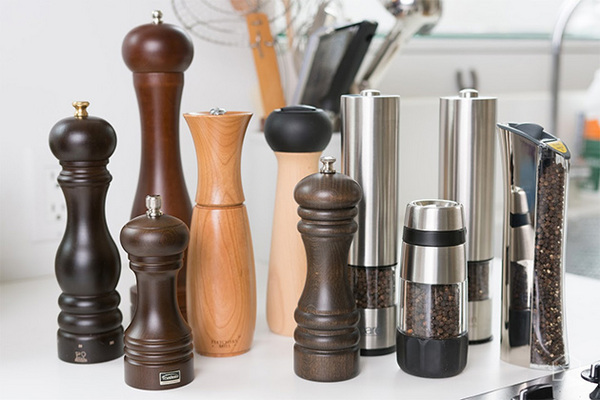 Many home cook choose a pepper shaker while season their food. What they do not know is that the already ground pepper tastes not as well as the freshly ground peppers. So it is highly recommend replacing the pepper shaker with a pepper mill, which can help get strong flavored pepper ground. Below, 6 best pepper mills in 2017 will be listed for your reference.
 
Perfex Crank Pepper Mill
Atlas Pepper Mill
Unicorn Magnum Plus Pepper Mill
Peugeot Paris U'Select Pepper Mill
OXO Good Grips Pepper Grinder
Ecooe Bamboo Pepper Mill
Price
$65.17
$47
$45
$44.95
€35.5
$22.99
€17.99
$6.99
€14.99
Material
Aluminum
Brass
ABS plastic
Beechwood
Stainless Steel
Bamboo & Stainless Steel
Height
4.5 inches
8 inches
9 inches
5 inches
5.5 inches
6.1 inches
 Pros
1. Compact
2. Simple to refill 
3. Durable aluminum case
 1. Handmade all-metal body
2. Excellent for the medium and finer grinds
1. Easy to refill
2. Huge Storage Area
3. Easy to use
1. 6 specific grind levels, including extra fine
2. Durable
3. Easy to use  
1. Cheap yet high quality 
2. Easy to use
3. Dispenser facing up design
1. Cheap yet high quality 
2. Easy to refill
3. Beautiful design
Cons 
 1. Expensive
2. Need to be refilled so often
1. No option for a coarse grind 
2. Refill system is fussy
 1. No option for a fine grind
2. Made of plastic
1. No extra coarse option 
2. No preset dial
1. No real fine setting
2. Slow grinding
1. Slow grinding
2.  No extra fine option
Where to Buy
Amazon
Amazon
Amazon
Amazon
Amazon DE
Amazon
Amazon DE
Amazon
Amazon DE
#1 Peugeot Paris U'Select Pepper Mill
Peugeot Paris U'Select Pepper Mill is made of beech wood with a sleek dark of chocolate finish. It is available in multiple sizes for different occasion, ranging from 5 inches to 16 inches. The major feature of this pepper mill is its two-stage pepper mechanism, which cracks and then grinds the peppercorns. What's more, the pepper mill is adjustable to grind peppercorns from coarse to powdery. Absolutely, this is the best pepper mill you can choose in 2017.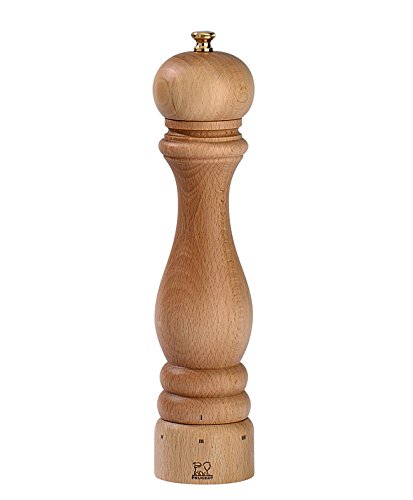 This particular item has their unique system of being able to change the grind coarseness by turning the bottom of the device, to one of 4 settings. At it's coarsest it will grind more like cracked pepper, and at its finest more like what cheaper grinders produce at their largest grind setting…
Read More Customer Reviews on Amazon
#2 Atlas Pepper Mill
Available in copper, chrome and brass and sizes ranging from 7-inch to the 9-inch, the Atlas Pepper Mill uses classic method to grind peppercorns. The metal body makes the mill durable for years and has timeless antique appearance. Additionally, the pepper mill comes with a stable flange base and offers fine or medium grinding modes.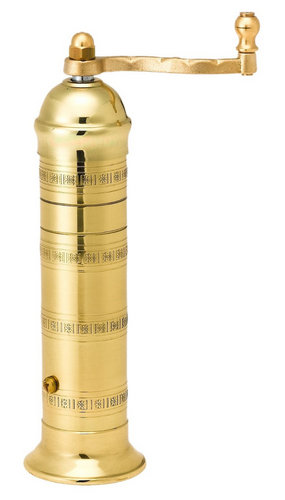 In fact, it far exceeded my lofty expectations. One of the reviewers said it was built like a tank. That's no exaggeration. Cockroaches and these grinders will be the only things left if there's nuclear war. The grinding mechanism feels sure and solid when you turn it, and the quality and quantity of the grind is superb.
Read More Customer Reviews on Amazon
#3 Unicorn Magnum Plus Pepper Mill 
Unicorn Magnum Plus Pepper Mill is designed in simple, sleek and black, thus it looks comfort and is ease of use. Made form ABS plastic for its 9 inches body and steel for its grinding mechanism, the pepper mill helps you grind peppercorns easily and fast. Also, it allows users to choose different grinding mode raging from fine to coarse. In addition, this pepper mill is easy to refill with a sliding side.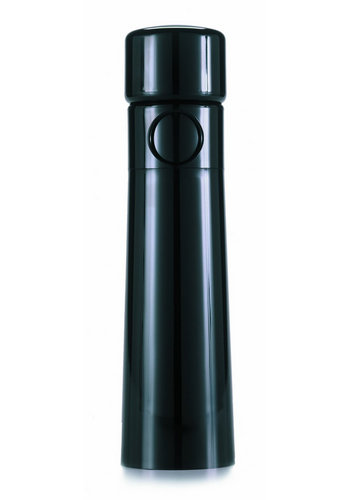 The Unicorn Magnum Plus is a fantastic pepper mill! Some key features include: * Grind Quality, It's very easy to set your grind at the base, and it maintains your preferred grind consistently, use-after-use. * Huge Output, You get a LOT of pepper per grind…
Read Customer Review on Amazon
#4 OXO Good Grips Pepper Grinder
OXO Pepper Grinder has very high quality considering their low price. The stainless steel accents with a transparent acrylic body make it easy to know when to refill. The OXO pepper grinder is small, only 5.5 inches high, which makes it as a permanent fixture on family dinner table. Also, the soft and nonslip grip and non-corrosive ceramic grinder makes it easy to coarsely or finely grind peppercorns.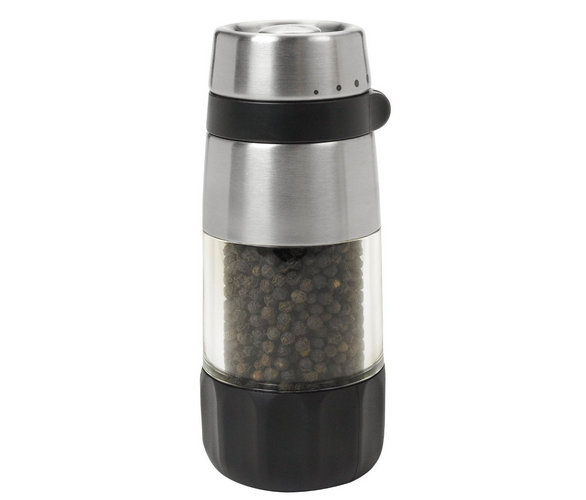 First, THIS IS A PERFECT PEPPER GRINDER. It has the easiest loading area I have ever seen. It has coarse to fine settings which always come out uniform. It is pretty affordable and it looks good. Second, when I tried out a slew of pepper grinders, it came down to two major and three minor qualities.
Read Customer Review on Amazon
#5 Perfex Crank Pepper Mill
Featured with an aluminum body, the 4.5-inch Perfex Crank Pepper Mill is durable for years use. For a smaller pepper mill, it is a little expensive for $70, but the durability for lifetime use makes it worth buying. It has a classic grinding mechanism with a pull-out chute, which can help you grind easily and refill simply. Besides, you can simply change your grind anywhere between fine and coarse.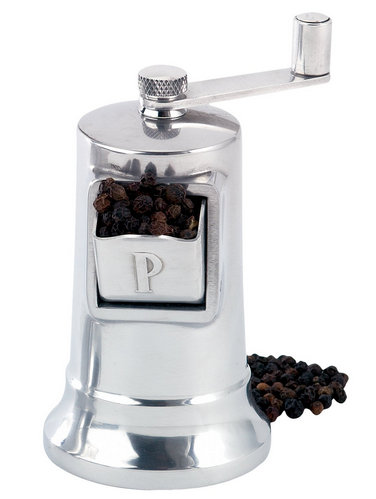 I have had mine for over 30 years. I value it because it grinds very fine or very coarse, as needed. The aluminum is easy to hold and easy to keep clean. The size is great for easy, rapid grinding.It has been worth its price to me many times over.
Read Customer Review on Amazon
#6 Ecooe Bamboo Pepper Mill
Apart from OXO pepper grinder, the Ecooe Pepper Mill is also cheap yet with high quality. Adopting unique bamboo and sturdy ceramic, the pepper mill is sure to last for years. While the special design makes it a great addition that goes with any decor. Also the cylinder design gives you a comfortable grip and the smoothly twisting top is a great favor to your wrists. And it is housing with a sturdy and flexible ceramic grind, which makes it easy to grind the peppercorns. Also, it is adjustable to grind from fine to coarse. Besides, you can know when to refill the pepper mill through the viewing window.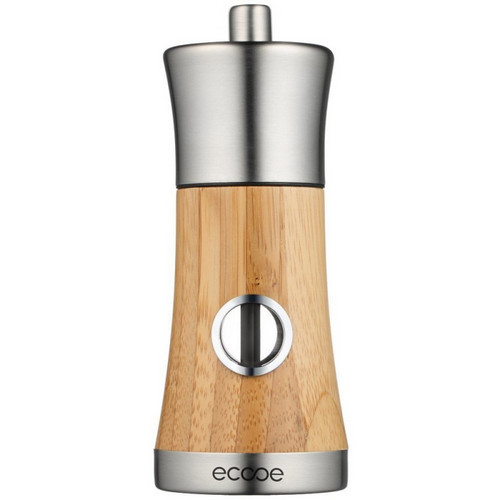 The design is very modern and I love the bamboo with stainless steel combo. The cute little glass windows add a nice touch, plus if you have multiple of these, you can distinguish where is your salt or pepper. Overall it's pretty good. Just part of me wishes it was a bit bigger so I wouldn't waste time refilling it all the time.
Read Customer Review on Amazon
All of them are perfect for you to grind pepper. Also, you can find more best pepper mills in Amazon & Amazon DE. 
Related articles:
10 Innovative Kitchen Tools You Can Buy
What's the Best Way to Steam Broccoli?