5 Homemade Iced Coffee Drinks for Summer
The summer heat is fully underway, iced coffee drinks are there at the top of many people's drink pyramid.  It's always great to cool things down with some tasty iced coffee drinks. This year, let's make these 5 tasty and delightful iced coffee drinks at home. 
Vanilla Bean Iced Coffee
Let's kick this coffee with a vanilla bean iced coffee.  The vanilla beans add a special flavor to you iced coffee. Use iced brewed coffee in this recipes seems a better choice, it retains more nuanced flavor than coffee brewed hot and allowed to cool. For the best flavor, use freshly ground coffee and dark roasted beans.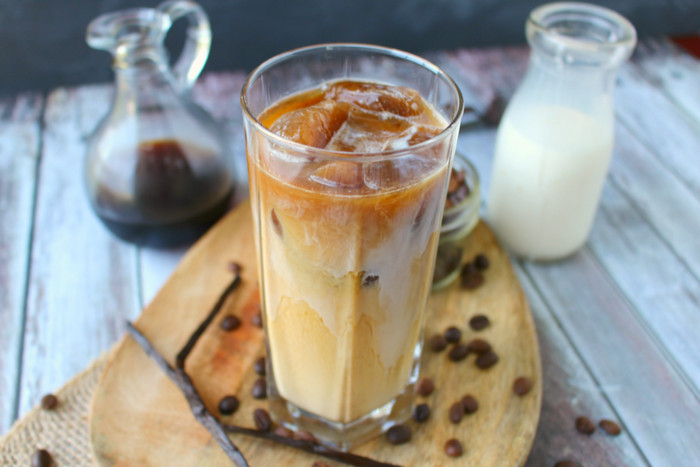 Ingredients:
• 1 cup coffee, chilled
• ¼ vanilla bean, seeded
• simple syrup to taste
• milk to taste
• 1 cup ice cubes
Directions:
1. Fill your glasses with ice cubes. Pour the coffee in and add some milk to your taste. Diary milk, almond milk coconut milk or soy milk are OK to add. 
2. For sweetness, add some  some simple syrup. To make simple syrup, just combine 1 part water and 1 part sugar in the saucepan n the stove and heat it over medium low heat until the sugar dissolved completely. 
3. Last, add vanilla beans to your coffee. To make it more delicious. you can slice the vanilla bean in half and remove the seeds to put in your coffee. Then, stir the coffee thoroughly. 
Iced Caramel Macchiato
When talking about coffee drinks, you would think of Macchiato, for sure. It's not just because its beautiful colors, but also because its fantastic taste. (Let's learn the different types of coffee drinks.)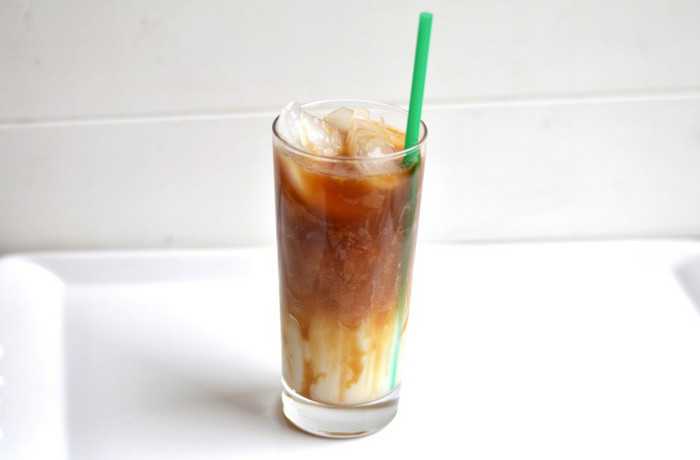 Ingredients:
• 40 ml vanilla syrup
• 1 cup of milk
• 1 cup of ice
• 1 shot espresso
• caramel sauce
Directions: 
1. To get started, you need to prepare 2 shots of espresso. If you do not have espresso machine at me, you can substitute with Moka pot. 
2. Add 40 ml vanilla syrup, a cup of milk and a cup of ice cubes in your glass. Pour in your shot of espresso slowly in. Your espresso  will slowly drizzle down to from the layers. 
3. At last, add the caramel sauce in a checkered way. Now enjoy.
Cold Brew Lemonade
Adding lemonade to your iced coffee creates a bold, tangy and delicious drink. This cold brew lemonade tastes sweet and a bit tart. It's easy to make yet can bring cold to your hot summer.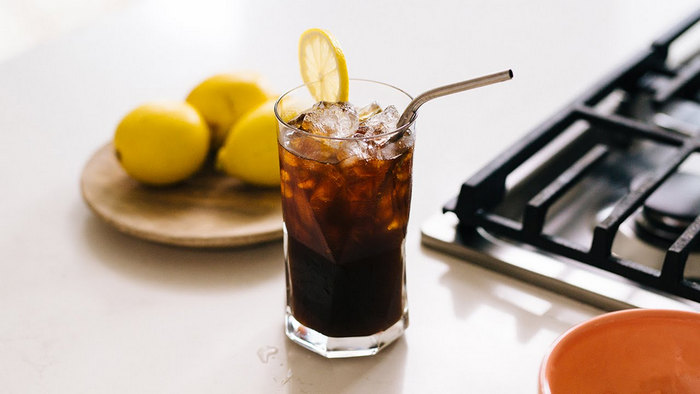 Ingredients:
• 30-60 ml lemon juice
• 1/2 cup of water
• 1/2 cup of cold brew coffee
• simple syrup to taste
• 1 cup of ice
Directions:
1.  First, you need to make the lemonade – combine the lemon juice, simple syrup and water in the cup. You can taste to your preference. 
2. Then, Add ice to the cup and pour cold brew coffee (learn how to make cold brew coffee) in. Stir it and enjoy your cup of iced coffee lemonade.
Iced Mocha with Coffee Cubes
Yes, coffee here is used to be ice cubes. This coffee ice cubes will never your drink becomes watered down. Instead, the melting cubes will releasing coffee as you sip.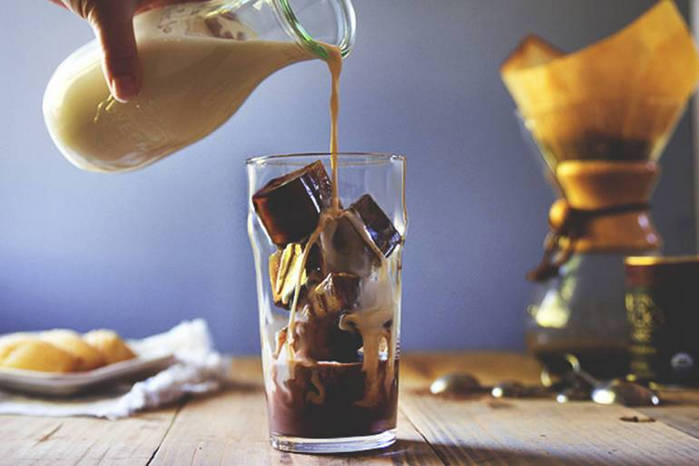 Ingredients:
• 1 cup of coffee cubes
• 3/4 cup of  milk
• 4 tsp of cocoa powder
Directions:
1. Brew your coffee, and then freeze the coffee into ice cubes. 
2. Warm the milk. Add the cocoa power in your glass and then add 1/4 cup of milk in. Stir until the cocoa power completely dissolve. Then, add 1 cup of coffee ice cubes and the remaining milk. 
3. Stir and enjoy. The warm milk will melt the coffee cubes, leaving you with an exceptionally refreshing treat.
Cinnamon Almond Iced Coffee
This coffee is a great drinks to spice up your morning. The cinnamon gives a special flavor to your cup of coffee.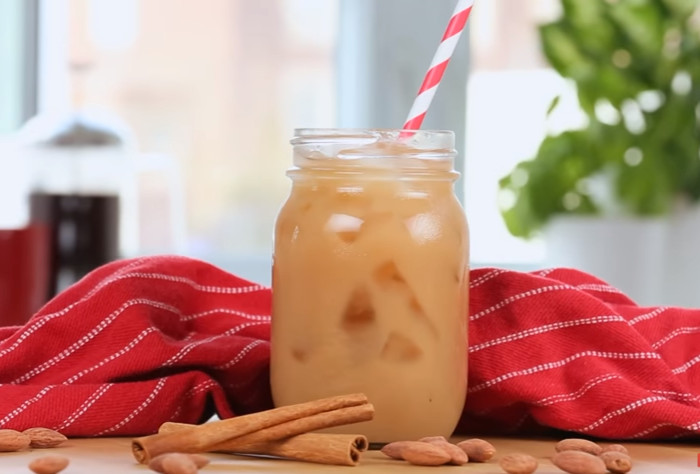 Ingredients:
• 1 cup chilled coffee
• Almond milk to taste
• 2 tsp of almond extract
• 1 cup of ice
• Cinnamon simple syrup to taste
Directions:
1. Combine 1/2 cup of water and 1/2 of sugar, and heat over stove until the sugar completely dissolved. Then add the cinnamon stick in. 
2. Pour cold coffee over ice. And then add almond milk and almond extract in. Finally, add some cinnamon simple syrup in. 
3. Stir completely and enjoy. 
Related Recipes: How to Make A Gallon of Sweet Tea