10 Popular Christmas Gift Ideas of Kitchenware
If you like cooking, you will find your enjoyment at the kitchen. If you hate cooking, then you should feel grateful for who makes great meals for you every day. So, at this crazy shopping season, why not pick a perfect Christmas gift for friends or families who are fond of cooking? With right tools, cooking will be a lot easier and be more fun. If you're on the hunt for the best Xmas gifts, then you are reading the right list. Check out 10 popular Christmas gift ideas for Kitchenware.
Use this Air fryer to explore more healthy recipes for your families!
Price: $39.99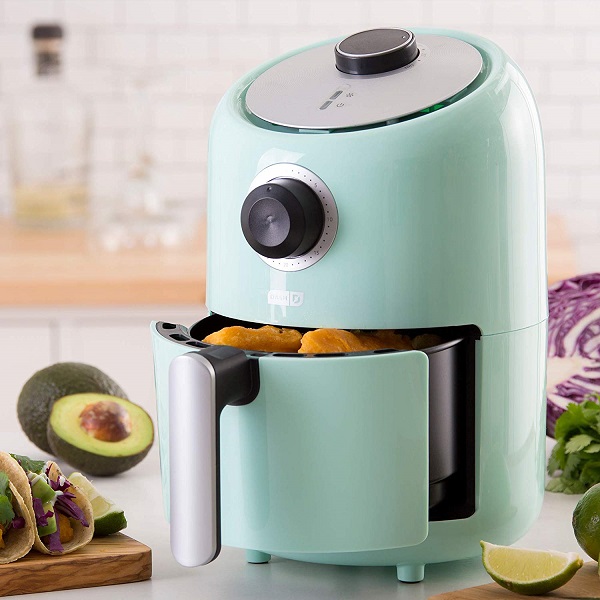 Features
Healthier: Dash Compact Air Fryer uses Air Crisp technology (instead of oil) to help reduce added fat by 70-80%, without sacrificing the flavor of your fried food.
Quick & Easy: Simply load the 1.6 qt capacity fryer basket, set the temp, and set the timer. Your food comes out crispy, and guaranteed. And it takes less time to preheat, which makes it more energy efficient.
Safer: The auto-shut off function prevents overcooking, and the cool touch housing and handle makes it safer to use. It's so simple, even your kids can use it!
Versatile: This is the perfect Christmas gift for picky eaters, large families, or those who have busy schedules.
Compact & Lightweight: Half the weight of a standard fryer, the Dash Air Fryer is your must-have for that first apartment, smaller kitchen, college dorm life, or camper traveling.
Great Looks: Sleek design and trendy color options blends well with any kitchen space.
Serve your food with aesthetic sense.
Price: $39.97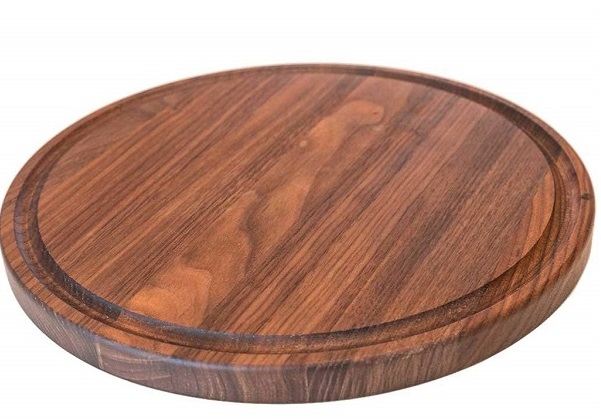 Features
Rich Chocolate Hue: When seasoned, the board carries an attractive dark brown shade, making it an attractive piece of home decor to go with its function. It makes the perfect gift for Christmas.
Knife-friendly Surface: The porous, soft straight grains of walnut wood make it a cutting surface that won't dull your knives.
Customizable State: Each board arrives in its raw unseasoned form so you can use any preferred seasoning oil or finishing wax you like to get the board's rich dark color.
Long-lasting and Durable: Each board is made in the USA with responsibly sourced, non-endangered Black Walnut Wood and is kiln dried and carefully smoothed before finishing. You get a thick, sturdy and reversible block that won't warp, crack or splinter and will last you years if it's properly maintained.
Hang up your knives organized and clean.
Price: $15.99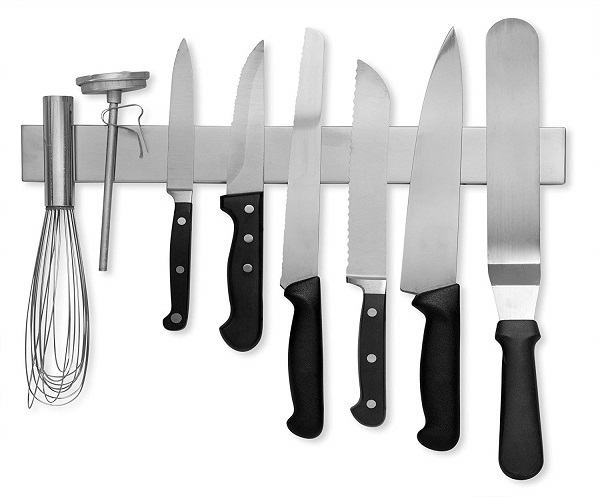 Features
Great Quality: This modern magnetic knife bar is made from strong magnets and covered in elegant, satin finished, high grade stainless steel, accenting any kitchen decor.
Safe and Secure: The magnetic surface powered by a powerful neodymium magnet allows the magnetic knife holder to let even your largest knives to instantly hang safely and securely.
Organize it All: The extended length allows you to hold more knives than most knife blocks on the market while still being small enough to versatility fit into many nooks and crannies in your kitchen or work space.
Great for Display: Use the magnetic knife storage strip to hold knives, scissors, tools, children's' toys, keys, and whatever else you can think of as the ultimate organizer
Season your meals fresh and easy.
Price: $13.99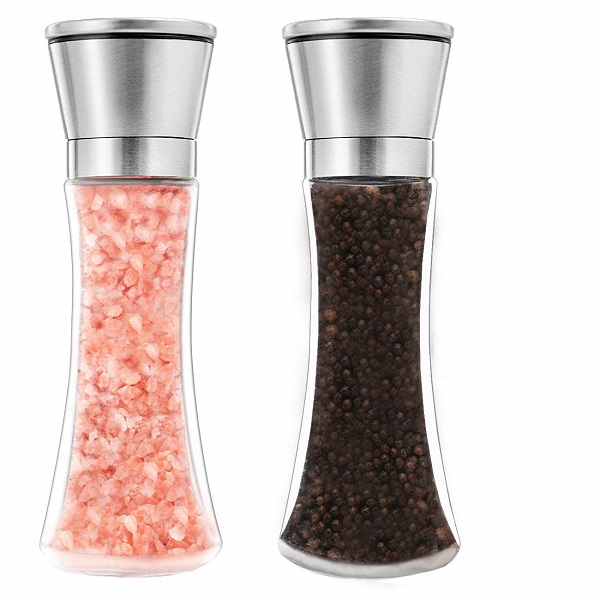 Features
Glass and Stainless Steel: Clear glass bottle, modern and elegant design in brushed-satin stainless style. It is sure to add its elegant touch to your table.
Adjustable Grind Setting: Comes with adjustable ceramic grinding mechanism, it allows you to finely crush, mill and grind your spices from a fine to coarse. To adjust the coarseness, you just turn the black knob on top of salt or pepper mill, hold the head and twist the glass body, and then enjoy fresh grounded salt, pepper or other spices.
Extended Freshness: This non-corrosive grinder with easy-to-use Snap-On cap keeps your spices fresh for long time, and won't absorb flavors.
Easy to Refill: No need to constantly refill anymore. Measures 7.5″ tall by 2.5″ wide and they have a 3/4 cup capacity to hold your peppercorn, sea salt, kosher salt, Himalayan salt, spices and more. Fill it with the spice of your choice! Just simply screws stainless steel top off the wide opening, and refill it easily with no mess.
Serving your Whisky in these stunning glasses.
Price: $18.99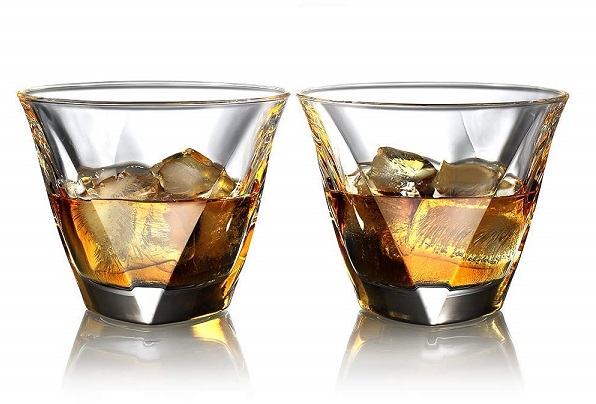 Features
Crystal Clear and Solid: lead-free ultra-clarity glass with stable construction making it withstand scratches and chips in daily use. Occasionally small air bubbles or spots do occur in the manufacture of all lead-free glass products.
Stunning Design in Heavy Weight: These beautiful textures lend a sparkling ambience. Also its heavy weight makes you feel highly qualitative and texture when you hold it. Great options for special gatherings and wonderful gift for whisky lovers.
Versatile Use: Suitable for Scotch, Bourbon, Whiskey, Mixing Beverages and any of your favorite beverages. The mouth of each whisky glass is large enough for standard whiskey ice stones, whiskey balls, or cubes.
Effortless Cleaning: Dishwasher friendly, and also easy to rinse with water. Dishwasher safe.
Display your wines with this elegant wine rack.
Price: $36.99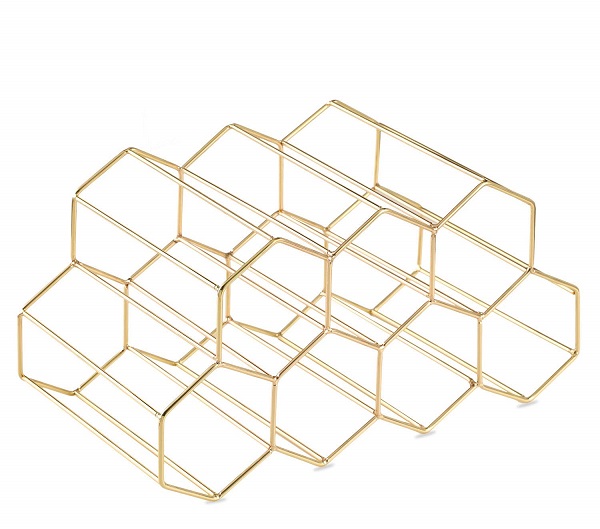 Features
Metal Wine Rack: This metal wine rack has room for up to 7 standard bottles of your favorite wine.
Free Standing Display: With the wine rack free standing display, you can place it on a counter top, a table, or anywhere that best suits your home.
Simplistic Design: The simple yet elegant design of the wine bottle rack makes it a great display piece that you'll be proud to have out.
Handcrafted Quality: Wrought iron for long-lasting beauty even under rigorous use.
Size: wine rack is 14.5″x7.6″x7.6″ and holds 7 bottles of wine.
Brews a family-amount of tasty coffee.
Price: $20.99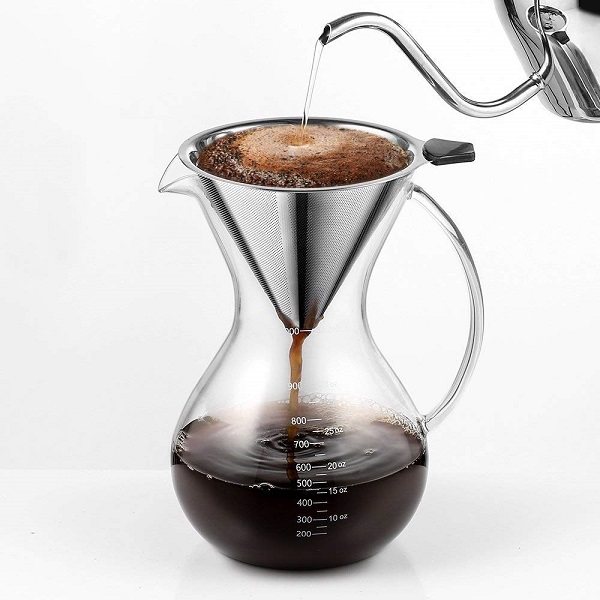 Features
33.3 Oz / 1000ml Large Capacity: 1000 ml volume allows you to share coffee with families and friends for gatherings now and then.
No Plastic, Glass Carafe & 304 Stainless Steel Filter: No odors, or chemicals, no plastic(only the handle of the filter is made of plastic), provide you a fresh tasting coffee for every brew.
Easy to Use, No Need Paper filter: Pour a small amount of water over the grounds to just wet. Wait 15-30 sec. It will "puff up" the grounds, then pour the rest of the water slowly. In order to keep the coffee hot, please use boiled water to preheat the carafe before make coffee.
Easy to Clean: Cleaning brush included, You can easy to clean the filter and carafe easily by hand. All the parts are also suitable for dishwasher.
Brew a cup of tea with comfort.
Price: $19.99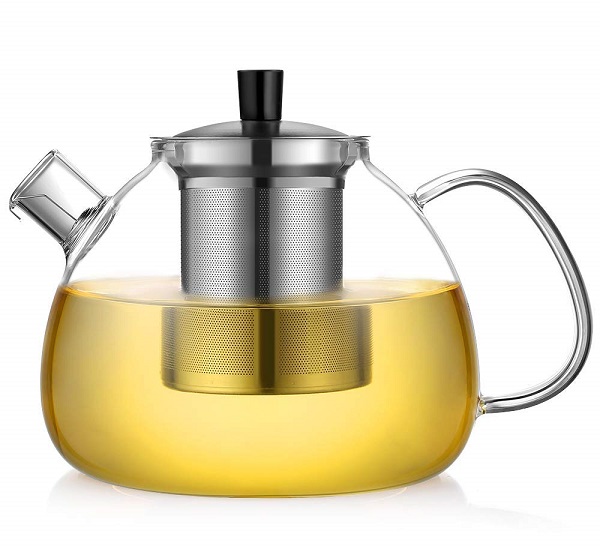 Features
Ranked Top 3 in Teapots on Amazon Germany: Strictly selected materials are 100% safe; Exquisite craftsmanship ensures premium quality; Extra fine filter eliminates tea leaf residues; Handmade spout guarantees smooth pouring and no drip after pouring.
50 Oz / 1500ml Large Capacity Teapot: Enough to provide roughly 6-7 mugs of water. We recommend 1350 ml water for optimal stove top heating.
Heat and Cold Resistant High Borosilicate Glass: The teapot can withstand instant temperature change from -30 ℃ to 150℃. It will stay intact even if you fill boiling water into the frozen teapot instantly.
Can be placed directly on stove and Microwave oven: This teapot is made of high borosilicate glass which can be placed directly in the microwave oven or on either gas or electric stove tops to heat water to brewing temperature using a medium level heat source
A loving kitchen need flowers too.
Price: $12.99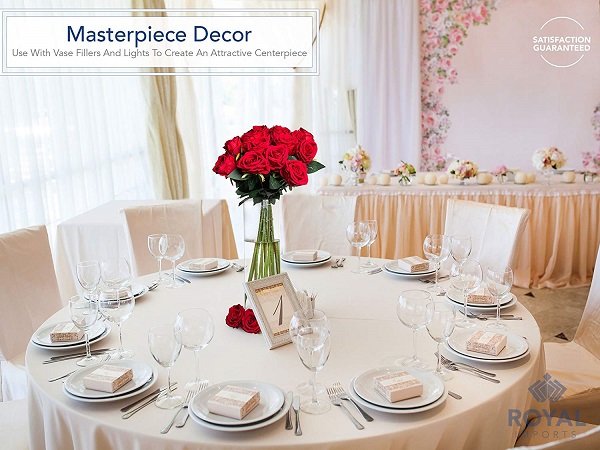 Features
Quality: Royal Imports clear glass cylinder vases are crafted of high quality, blemish-free, crystal clear glass to maximize content visibility. Each cylinder features thick glass walls and weighted base to ensure durability. Imported.
Best Seller: Glass cylinder vases, commonly referred to as round floral containers are best sellers in the floral supply, home décor, and wedding planning industry. From home decorators, to event planners, everyone makes use of a good quality basic glass cylinder. It will enhance any romantic event when filled with roses, even restaurant tables when filled with candles, or any party when filled with lights and vase fillers.
Uses: Clear glass cylinders are very popular with fresh flower arrangements as well as silk or dried floral designs. But it is also commonly used as candle holders, storage containers (in modern offices), aquariums or fish tanks, potpourri containers, and centerpieces filled with gems or lights
Trends: Classic glass cylinder vases have become increasingly popular with Lucky Bamboo, Succulents, Roses, Candles, Orchids, Branches, vase fillers, pearls, gems, pebbles, fruits, macaroons etc.
Best companion for brewing coffee or tea.
Price: $19.99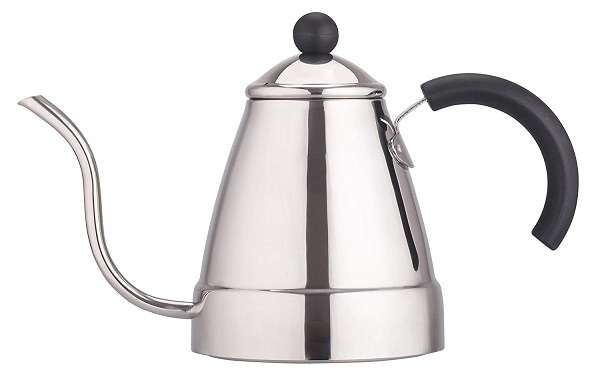 Features
Heatproof Handle: Timeless Modern Styling: The stay cool handle and slip-resistant grip ensure that the kettle does not slip when you are pouring water. This stainless steel gooseneck kettle is a timeless design with modern styling and beautiful stainless steel mirror Precision Pouring: Durable Design: The narrow spout gooseneck kettle allows you to pour out its content with ease and minimal tension, without creating drips and messes. The Zell kettle is made from high quality 18/8 stainless steel. This kettle will not rust, corrode, or affect the quality of your drinks in any way. BPA Free!
Safe on All Stove Tops: Safe for use on gas, electric, and induction stovetops. The angled handle keep hands away from heated kettle.
The Perfect Gift: Buy with confidence! Perfect for any kitchen or office. Makes a great gift for weddings, housewarming, birthdays, and almost any occasion!
Life is fantastic. And like your meals need seasoning, you need an accessory that makes the very important place, kitchen, in your home, delightful. Anyone get any of them would be a happy to have such a joyful experience. Hope this helps you to make the hard choice during the Christmas season. If you have different ideas that counts unexpected gifts, please share with us.